Acne Scar Clear treatment helps remove red and black acne scars (Postinflammatory Hyperpigmentation). This treatment applies Intense Pulse Light together with Radiofrequency (RF) on your skin. The light is filtered for suitable wavelength. Therefore, it removes only black and red spots. The intensity of the light causes the scars become lighten. Radiofrequency works on stimulate collagen under your skin. It helps accelerate acne scars healing process. In addition, this treatment also composes of Rebalancing Mask. This mask reduces redness and adjust your skin to become normal faster.

What are the key compositions of Acne Scar Clear?

1. Intense Pulse Light + RF: reducing red and black acne scars and stimulate collagen to improve healing process.
2. Rebalancing Mask: reducing redness and stabilize your skin.

How can the Intense Pulse Light reduce acne scar?

The light is absorbed more by pigmented tissue than non-pigmented tissue, causing thermal damage to pigmented cells. Acne scar generally have a higher density of melanin so the intense light can be used to destroy melanin and remove the discolorations including red and black acne scars. It also make skin brighter without any serious side effects.

Does Intense Pulse Light cause thin skin?

Intense Pulse Light does not cause thin skin. Conversely, it helps firm and tighten the skin by stimulating collagen and elastin production.

Who is suitable for Acne Scar Clear?

Acne Scar Clear is suitable for people having problem with red and black acne scars.

How many sessions are required to achieve the results?

An average of 3 sessions is probably enough to see a strong improvement. The acne scar will be reduced up to 60-70% after 6 sessions.

Is it possible to do Acne Scar Clear while still having the acne?

Reducing acne scar by Acne Scar Clear treatment can be done simultaneously with treating acne. Acne Scar Clear will not increase acne. Whereas, it helps dry out an inflamed acne.

Are there any advices after doing Acne Scar Clear?

1. Your face will be red for 3 – 4 hours.
2. Sometimes you will have scraps. Do not scratch. They will peel off within 7-10 days.
3. Stop using Comedo clear (Benzoyl Peroxide) and Anti-blackhead (Vitamin A) for 1 night.
4. Do not scrub your face for 1 week.
5. Apply sun protection SPF more than 50.
6. Avoid strong sunlight during first 10 days.
7. Able to have facial treatment as usual.

How often?

Once every two weeks

Results of Acne Scar Clear Treatment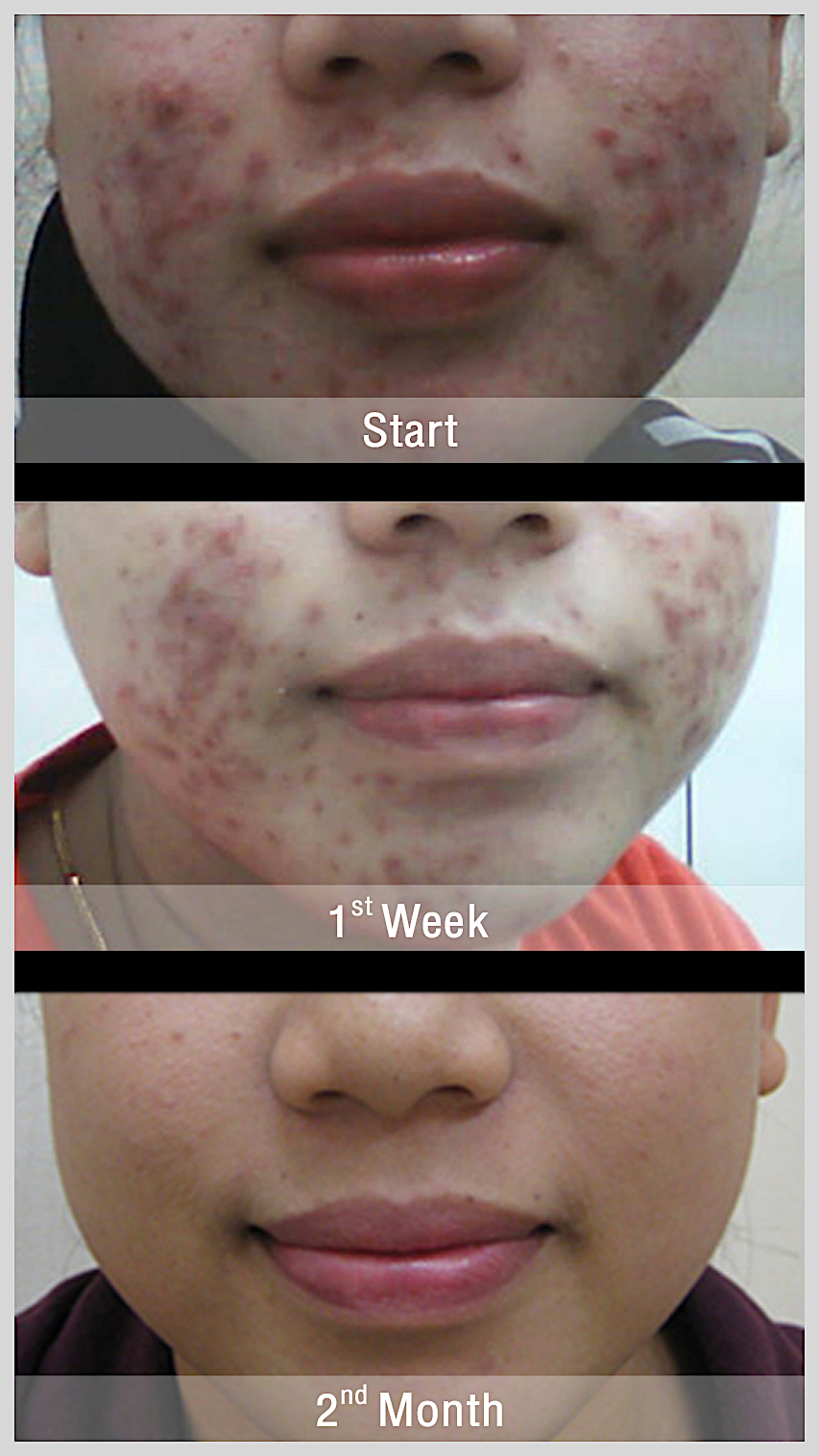 90% of clients start having some improvement after the 1st session. Strong improvement is noticeable after the 3rd - 4th session.


Price/ Package/ Time

The total time per session is 40 min.

| | | |
| --- | --- | --- |
| Course size (session) | Discount (%) | Total price (THB) |
| 1 | - | 2,399 |
| 6 | 15% | 12,230 |
| 10 | 20% | 19,190 |
Back to all facial treatments »
Appointment for receiving treatment »

Our signature treatments: Acne Treatment | Acne Scar Treatment | Microdermabrasion